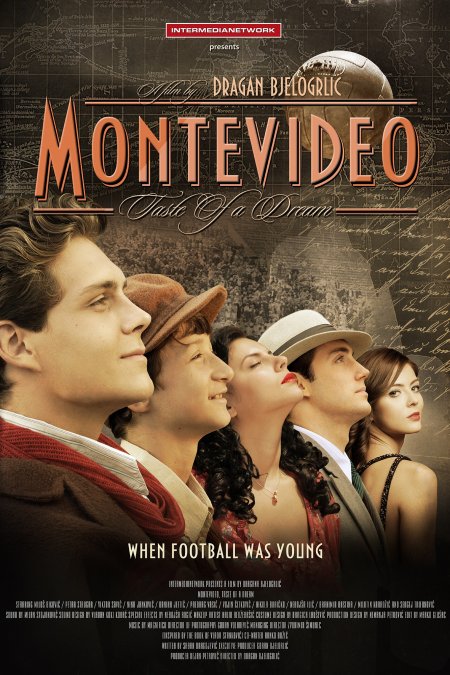 Original title: Montevideo, Bog te video
Produced by: Intermedia Network (Serbia)
Producer: Dejan Petrović
Directed by: Dragan Bjelogrlić
Screenplay by: Srđan Dragojević and Ranko Božić
Director of photography: Goran Volarević
Music by: Magnifico
Production designer by: Nemanja Petrović
Costume design by: Dragica Laušević
Make up by: Halid Redžebašić
Film editing by: Marko Glušac
Genre: History, Melodrama; Running time: 145min; Format: 35mm / color; Sound: Dolby SR; Aspect ratio: 16:9 Wide screen; Release date: December 20th, 2010;
CAST
Miloš Biković / Petar Strugar / Danina Jeftić / Nina Janković / Predrag Vasić / Viktor Savić / Nebojša Ilić / Vojin Ćetković / Nikola Đuričko / Tamara Dragičević / Mima Karadžić / Branimir Brstina / Srđan Timarov / Aleksandar Radojičić / Andrija Kuzmanović...
Belgrade, Serbia, 1930. The story follows eleven passionate, mostly anonymous, but very talented soccer players and their journey from the cobblestone streets of impoverished Belgrade neighborhoods to the formation of the national team before the very first World Cup in faraway Uruguay.
Named after the Uruguayan capital city Montevideo, where the inaugural World Cup event was held, director Bjelogrlić's adaptation of journalist Vladimir Stanković's best-selling book centers on the relationship between two top players: natural talent and poor boy Tirke (Milos Biković) and playboy, superstar Moša (Petar Strugar).
The two young men eventually become friends when they're thrown together on the front line of the struggling local team, Belgrade Sports Club BSC. As the club hierarchy struggles to keep the team afloat, the opportunity arises to create a national team. But team unity is strained when Tirke and Moša face off over beautiful women. Rosa (Danina Jeftić), the voluptuous, small town innocent, adores Tirke, but her soccer-mad uncle conspires to set her up with Moša; vampish Valeria (Nina Janković) is a free-spirited bohemian who seduces Moša and finds much fun in pitting him against Tirke.
The initial doubt that surrounded their personal and professional lives is transformed into a shared ambition to prove themselves in Montevideo; as a result, a story about friendship, enthusiasm, persistence and love for the game is unraveled.
The entire 'Montevideo, Taste of a Dream' project has been hugely successful thus far. Over 520,000 people in Serbia saw the first film, which also won a number of awards and managed to regain the long lost trust of Serbian and regional viewership.
33rd Moscow International Film Festival, Russia (2011) - Audience Choice Award for Best Main Competition Film;
58th International Film Festival in Pula, Croatia (2011) - International Jury's Special Mention;
5th Film and Art Festival Two Riversides, Poland (2011) - Audience Award;
8th Lipetsk International Sports Film Festival ATLANT, Russia (2011) - Best Feature Film About The Sport (Intermedia Network);
17th FIPRESCI Serbia (2010) – Best Picture (Intermedia Network), Best Director (Dragan Bjelogrlić), Best Director of Photography (Goran Volarević), Best Script (Srđan Dragojević and Ranko Božić), Best Production Design (Nemanja Petrović);
46th Niš Film festival – "Tsar Constantine" Award for Best Male Role (Miloš Biković); Most Successful Debutant Award (Petar Strugar); Best Supporting Actor Award (Viktor Savić);
Best Foreign Language Film Oscar at the 84th Academy Awards – Serbian Official Candidate
1st Regional MTV Movie Awards - Best Picture (Intermedia Network), Best Actor (Miloš Biković), Best Actress (Nina Janković);
11th Sopot Film Festival, SOFEST, Serbia (2011) - Best Production Design (Nemanja Petrović);
4th International Film festival "LIFFE", Leskovac, Serbia (2011) - Audience Award for Best Picture;
2nd The Men of the Year Awards (2010) – Project of The Year (Intermedia Network)
30th Serbian Popularity Oscars, Serbia (2010) - Best Picture (Intermedia Network);